企业动态 | 蒲门茶业获品牌干净茶特别品质奖,举行哈尔滨经销商授牌仪式
2019年5月31日-6月3日,蒲门茶业参展哈尔滨茶博会,获品牌干净茶特别品质奖,举行哈尔滨经销商授牌仪式
2019年5月31日,第十届哈尔滨茶博会正式开幕。茶博会期间,黑龙江省茶业协会、黑龙江省茶叶学会、黑龙江省食品安全信息追溯协会、哈尔滨市茶业协会共同组织了以"品牌干净茶 献给龙江人"为主题的2019黑龙江茶叶市场优质安全茶叶评比大赛,蒲门茶业"四大名旦——贵妃醉酒"参加了此次评比,并获得特别品质奖。
The 10th Harbin Tea Expo officially opened on May 31. During the tea exposition, Heilongjiang Tea Industry Association, Heilongjiang Tea Society, Heilongjiang Food Safety Information Retrospective Association and Harbin Tea Industry Association jointly organized the Heilongjiang Tea Market Quality and Safety Tea Competition of 2019 with the theme of "Brand Clean Tea for Longjiang People". Pumen Tea Industry "Four Famous Dances-Guifei Drunk" participated in the evaluation and won the Special Quality Award.
在市场上蒲门茶业的产品四大名旦已有一定的关注度,参加比赛评比的产品贵妃醉酒得到了现场经销商和茶友爱好者的一致赞誉。
Pumen tea products in the market has a certain degree of attention to the four major celebrities, the key products to participate in the competition evaluation of drunken concubines have been unanimously praised by on-site distributors and tea enthusiasts, and won the "special quality award" in the evaluation.
作为此次评比大赛的参赛企业,蒲门茶业也参加了此次哈尔滨茶博会,并进行了滇红茶文化传播、品牌介绍、经销商授牌仪式、新品品鉴等活动。
As a competitor in the competition, Pumen Tea Industry also participated in the Harbin Tea Expo and carried out activities such as Yunnan Black Tea Culture Communication, Brand Introduction, Distributor Licensing Ceremony and New Product Appraisal.
蒲门茶业在哈尔滨共有17家经销商,已进驻哈尔滨各大茶城。在茶博会现场,蒲门茶业举行了经销商授牌仪式。感谢各位经销商伙伴对蒲门茶业的信任,因为热爱和初心希望我们能并肩前行,蒲门茶业将让你看到一个越来越好的蒲门。
Pumen tea industry has 17 distributors in Harbin, and has been stationed in major tea cities in Harbin.On the scene of the Tea Expo, Pumen Tea Industry held a licensing ceremony for dealers. Thank you distributor partners for your trust in Pumen tea industry, because love and initial hope that we can go forward side by side, Pumen tea industry will let you see a better and better Pumen.
期间,蒲门茶业借此机会对即将上市的产品500年古树白茶"超凡之镜"做了新品及介绍及品鉴,并且现场有幸邀约到了"品牌干净茶 献给龙江人"为主题2019黑龙江茶叶市场优质安全茶叶评比大赛的黑龙江茶叶学会会长及感官审评专家梁永生先生。
During this period, Pumen Tea Industry took the opportunity to release and introduce the new product of the 500-year-old ancient tree white tea "extraordinary mirror", and invited Mr. Liang Yongsheng, president of Heilongjiang Tea Association and sensory evaluation expert of Heilongjiang Tea Market Quality and Safety Tea Competition in 2019 with the theme of "brand clean tea for Longjiang people".
现场品鉴了新品"超凡之镜",这也是蒲门茶业首款即将上市的新品白茶,此次品鉴,得到茶友的一致点赞。同时蒲门茶业在现场组织了抽奖活动,对支持蒲门茶业的茶友表示感谢,梁永生先生对幸运茶友进行了颁奖。
The new product "An extraordinary experience" was tasted on the spot, which is also the first new white tea to be listed in Pumen Tea Industry. This tasting was unanimously praised by tea friends. At the same time, Pumen Tea Industry organized a lottery on the spot to thank the tea friends who supported Pumen Tea Industry. Mr. Liang Yongsheng presented the prize to the lucky tea friends.
展会期间,蒲门茶业哈尔滨运营商高晓飞先生参加了青年企业家协会专场茶文化亲情交流活动,弘扬传统文化精神,响应茶为国饮号召,体验和感受茶文化浓郁气息。活动后携青年企业家协会各企业家及领导一行品鉴贵妃醉酒。
During the exhibition, the Harbin Operator General Gao Xiaofei of Pumen Tea Industry participated in the special tea culture family exchange activities of the Young Entrepreneurs Association, carried forward the spirit of traditional culture, responded to the call of tea as a national drink, and experienced and felt the rich flavor of tea culture. After the event, we took all the entrepreneurs and leaders of the Youth Entrepreneurs Association to taste the drunken concubines.
我们非常荣幸收获了真诚的合作伙伴和茶友,定将不负众望砥砺前行。
We are very honored to have received sincere partners and tea friends, and will certainly live up to the expectations of the public.
---
---
超凡之镜
500年大叶古树白茶
自然净界·好生态产好原料
Natural Pure World, Good Ecology and Good Raw Material Production
东经100度,北纬23度
云南澜沧江边
2100米海拔的高山向阳坡
云雾缭绕,阳光充足
丫口自然村——蒲门茶业古树茶基地
国家古树茶保护联盟首批合作基地
100 degrees east longitude and 23 degrees north latitude
along the Lancang River in Yunnan Province
Alpine sunward slope at 2100 m altitude
Clouds and mists, full of sunshine
Yakou Natural Village-
Pumen Tea Industry Ancient Tree Tea Base
The First Batch of Cooperation Bases of National Ancient Tea Conservation Union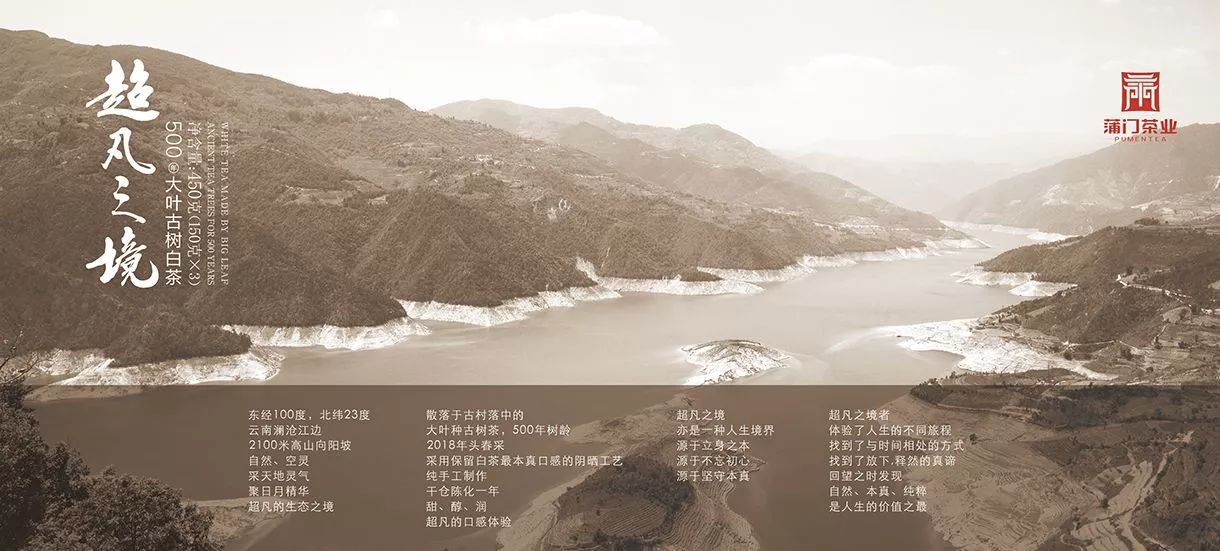 自然之味·自然生长500年
Natural Flavor and Natural Growth for 500 Years
散落于古村落中的
云南大叶种古树茶
500年树龄
树有多高,根就有多深,吸取自然之物
蓄积了极其丰富的内含物质
Scattered in ancient villages
Ancient Tree Tea of Yunnan Big Leaf Species
500 Years Old
As tall as a tree is
so deep is its root that it absorbs natural things
Accumulated extremely abundant substances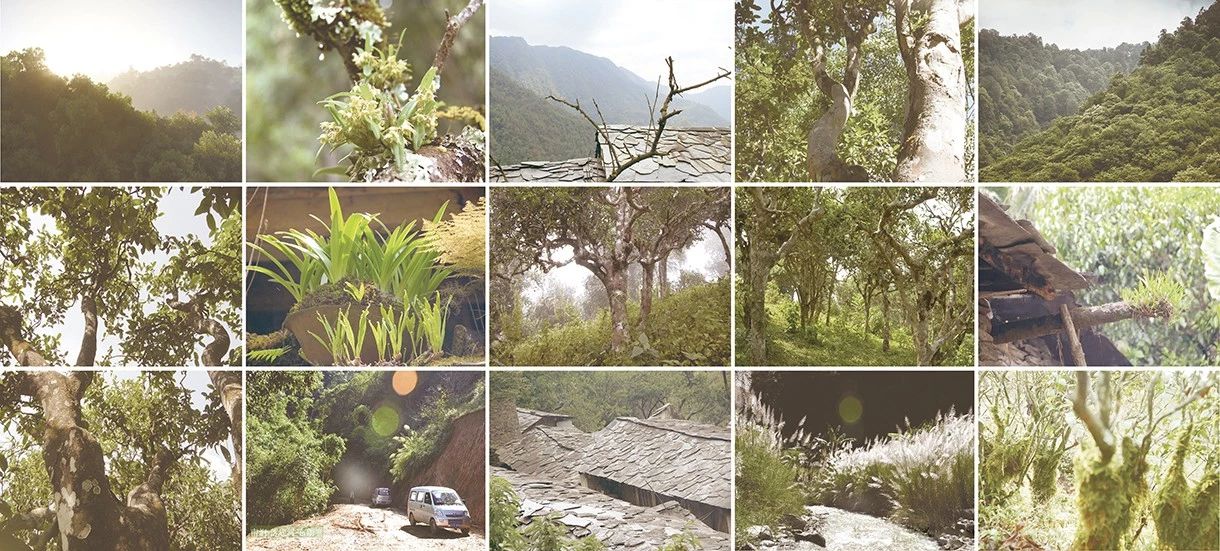 自然之味·好工艺守候出的好口感
Natural Flavor. Good Taste Waiting for Good Craftsmanship
2018年头春采摘鲜叶
采用阴晒工艺纯手工制作而成
阴晾36小时,阳关晒6-8小时
已陈化一年
Picking fresh leaves in the first spring of 2018
Made by hand with sun-drying Technology
Close the sun for 6-8 hours
while keep the sun dry for 36 hours
It has been aged for one year

新品即将上市,敬请期待!
New products will be on the market soon,
please look forward to it!